Off-Road Capability of Jeep 4xe PHEVs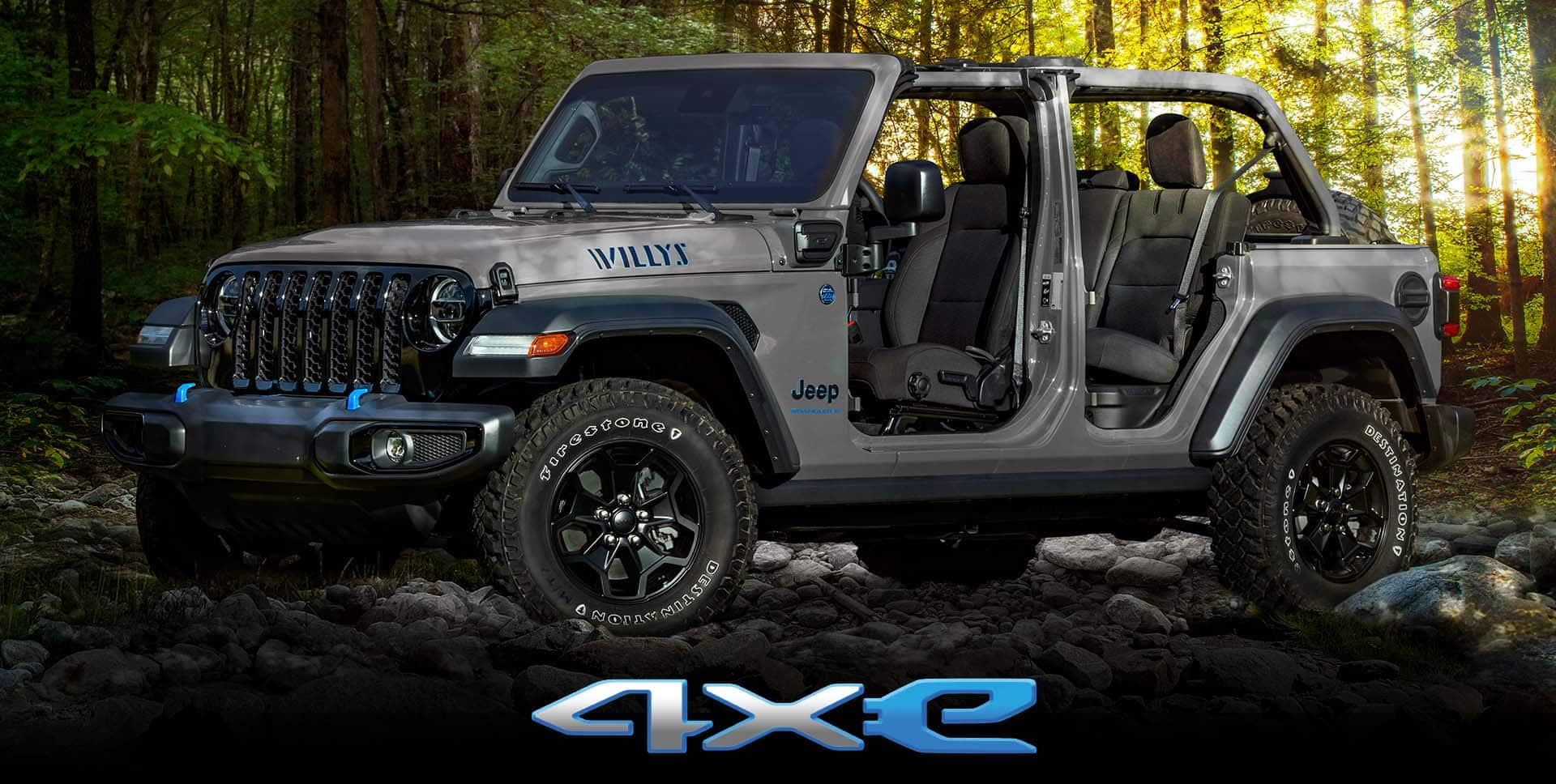 Off-Road Capability of Jeep 4xe PHEVs
Get a Jeep 4xe here at Arrigo Chrysler Dodge Jeep Ram Sawgrass!
When you get a Jeep 4xe, there is a lot it can do, and the most prominent thing it can do is use the power of its electric motors to take on the trails. With the Jeep Wrangler and the Grand Cherokee 4xe, you get an SUV designed with power, efficiency, and capability in mind. The technology for these plug-in hybrids is the first step that Jeep is taking to offer drivers a complete line of zero-emission SUVs. Continue reading below as we go over how capable the Grand Cherokee and Wrangler 4xe are off the road. Once you finish reading, check out our complete Jeep 4xe inventory here on our website!
The Grand Cherokee and Wrangler 4xe
Going with the Wrangler 4xe will give you the most potent and capable Wrangler ever, and it will take your adventure to new heights. When you lift the hood of the Wrangler 4xe, you will be treated to a base turbocharged 2.0-liter four-cylinder combined with a battery pack and two electric motors that will get your 375 horsepower and 470 lb-ft of torque. This engine can go from 0-60 mph in six seconds or less. For off-roading, the Wrangler 4xe comes with 31.5 inches of water fording, allowing you to go over things like brooks and streams when you hit the wilderness. For those who want a larger SUV, check out the Grand Cherokee 4xe, which gives you not only electric power but also a ton of sophistication and versatility with a towing capacity of 6,000 pounds to go along with all of the features that you would you usually get for the Grand Cherokee! Those looking for an outstanding vehicle with a ton of electric power will love the Grand Cherokee 4xe.
Go Further
Both the Grand Cherokee and the Wrangler 4xe come with a wide range of technology that will offer you everything you need to take your adventure to the next level. The gasoline-powered engine and the hybrid technology work together to provide the unmatched capability. You can also take advantage of the 25 miles of EV with the Grand Cherokee 4xe. Also, the Wrangler and the Grand Cherokee 4xe provide superior off-road performance as the Wrangler allows the driver to take over the torque and the more tractive force at lower RPMs. With the improved capability, things will get easier as you tackle all obstacles. If you want to test how powerful your Wrangler and Grand Cherokee 4xe are, check out Lost Horse Loop's trails and the Crowley Lake Columns!
Move Earth
If you check under the hood of the Wrangler and the Grand Cherokee 4xe, you will be treated to a 17.3 kWh battery placed in the center of both vehicles. It will typically take around two hours to completely charge your hybrid Jeep with the Level II battery charger, allowing you to get back on the trials as soon as possible. This fantastic battery will enable drivers to go long distances as well s cruise any outback you choose, which is even better in Electric mode and gives you a near-silent performance. Best of all, you can take full advantage of the 21 miles of all-electric range with the spectacular Wrangler 4xe. Should you ever run low on the battery charge, you can take advantage of the numerous Level II charging stations which will make it easier for you to plan your route keeping the chargers in mind!
All Worlds Delivered
All of your Jeep's hybrid technology will pair with a traditional gasoline engine that will give you exceptional performance on the trails and the highways. You will never have any range anxiety when you travel great distances due to the partnership between the innovative 4xe technology and gasoline-powered technology. With the Jeep brand electrification, drivers will be provided with an outstanding electric performance tailored to suit their driving needs. For example, putting your 4xe in Electric mode will allow for zero-emission tailpipes even if you reach highway speeds. In hybrid mode, torque will be combined with the powertrain and the electric motor. This impressive combination will get you maximum horsepower, instant torque, and spectacular acceleration. Last but not least, the Wrangler and the Grand Cherokee 4xe both have regenerative braking, so you can charge your battery when braking.
Get a Wrangler or Grand Cherokee 4xe at Arrigo CDJR Sawgrass
As you can see, both the Grand Cherokee and the Wrangler 4xes are made for off-roading with their awe-inspiring engine options, advanced technology, and different drive modes tailored to you! Are you interested in taking a test drive of the Wrangler or Grand Cherokee 4xe? Then head down to Arrigo CDJR Sawgrass, where our team will set you up with a test drive and answer any questions you may have! If you enjoy your test drive, we have a complete finance center that will work with you towards a great deal and take your gasoline-powered trade-in if you have one! You can also view our entire Wrangler and Grand Cherokee 4xe inventory
here on our website
!